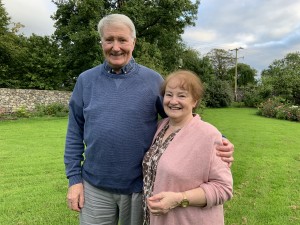 My dear father, Patrick O'Dwyer died on Sunday, April 16th, after two years of illness that he endured with remarkable dignity and stoicism. He had a very peaceful passing at home, with his family by his side – it was just as he wanted.
Here he is on his 50th wedding anniversary with Mum – I don't think I ever saw him happier than he was that day.
My mother, sister and I are so grateful for all the support and kind words we have received during Dad's illness and since his death.
Here is the eulogy I wrote for Dad's Funeral Mass, on Wednesday April 19th.
A eulogy for my father
First of all, I'd like to begin by offering some thanks.
Thanks to the medical staff who helped my father over the past two years of his illness – the entire haematology department in University Hospital Galway, the team in the phlebotomy unit, and the staff in Merlin Hospital who gave dad his blood transfusions over the years. Thanks to John, Declan and all the staff in Feely's pharmacy. Thanks to the kind carers, who became valued friends with my father. Thanks to all our neighbors on Circular Road, and a special thanks to Deirdre McCoy who drove Dad to many hospital appointments. Thanks to Dad's circle of loyal friends –  whose visits gave him such energy and joy. And thanks to our extended family for all their support, especially David Burke and Mary Ryan who offered such support to my parents.
I know Dad was so touched by all the kindness and dedicated care he received, and we will be eternally grateful. 
Today, we would like to celebrate Patrick's life, swap stories and share memories, and remember him as he would love to be remembered.  
A lifetime's achievements
So let's do some remembering. How to do justice to someone as fascinating as my father? 
Well, I'd like to start with a simple scene – Mom and Dad's 50th wedding anniversary, in July 2020, mid-pandemic. Honestly, it was about the happiest I'd ever seen my father. 
It was a glorious day and we walked down on to the lawn for photographs. Dad looked around at his beautiful garden and fine home, and he was honestly so humbled by how well his life had turned out. 
"This is what I've achieved," he told me with a big smile, scarcely believing his good fortune. "This family, this home, this garden." 
The love in his eyes when he hugged Mum was such a wonderful thing to behold. It was the look of a man who knew he had all the most important things in life – love, family, friendships – and knew how lucky he was to have them.
It was that sense of satisfaction and gratitude that helped him endure his illness with such dignity and stoicism – from the day he received his diagnosis of MDS, a type of blood cancer, in March 2021, he rarely complained, and never felt sorry for himself. He knew he had lived a good life.
Biographical details
It was a life that began in Ennistymon, Co Clare in 1944, the eldest child of pharmacist Willy and Annie O'Dwyer. He always told such great stories of his childhood in Ennistymon – he would regale us with his vivid memories of growing with his younger sister Mena (Philomena) and brother Tony. 
My favourite involved a very young Pat accidentally standing on a chick and bursting its side. Horrified at what he had done, he brought the miraculously still alive chick to his mother, who stitched that little chick back together to spare her son the horror. The chick grew into a lopsided chicken, an unusual symbol of his mother's love.  
Patrick was very bright, and he earned a Clare county schol that enabled him to go to St Flannans in Ennis – indeed, some of his schoolmates from those years were at the removal yesterday and are here today.
After school, he planned to enter the priesthood, expecting he would become a seminarian in Maynooth. That was until he was offered the opportunity to study in the Irish College in Rome instead – a huge opportunity, but also a daunting one.
Rome
In the autumn of 1963, he travelled to Rome at the age of 18 and his life was transformed. This was the Rome of the Second Vatican Council, a vibrant world capital. He fell in love with the place, a love affair with the Eternal City that lasted his whole life.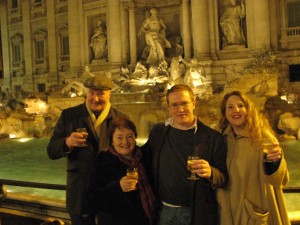 He had broadened his horizons, but he realised that the life of the priesthood was not for him, and after two years, he returned to Ireland to study History and Sociology in University College Galway.
It was here he met Riana Byrne from Tuam, through their involvement in the university Pax Romana society. Their relationship was the foundation on which Dad's adult life was built. 
They married in 1970, in this very Cathedral, and over the next few years, they studied and travelled widely. They embarked on postgraduate studies in Hamilton, Ontario, and after returning from Canada, Dad spent a year teaching in the regional tech in Sligo.
Then my parents moved to Belfast in October 1972, to take up a lectureship in Queens University Belfast. It was a fascinating time to live in Northern Ireland, as the Troubles flickered into terrible life. But despite the turmoil, they bought their first home, and in 1975 my sister Dervilla was born.
Return to Tuam and Byrnes
Eventually, they took the opportunity to return to the somewhat less tumultuous environment of Tuam in the late 1970s.
I arrived in 1979, born on a cold January night in the Grove Hospital – Dad never tired of telling the story of just how cold that night was!
During this time, Pat took over the running of Byrne's newsagent, stationers and bookshop after the death of Riana's father, Brod Byrne. Perhaps it was the knack for retail he'd learned from his parents pharmacy, but under his stewardship, P Byrne and Sons thrived. 
P Byrne of course was Riana's grandfather, who founded the shop in the 19th century, but it led many people in town to not unreasonably assume Dad's name was, well, Pat Byrne. 
It was an alternative name he seemed happy enough to be known by, and indeed, Dad became deeply enmeshed in the Byrne family. He planted trees in the garden of St John's with Fionnuala (and some other plants too!) Speaking of trees, he knew the Byrne and McCann family trees just as well as the O'Dwyers and McNamaras. Mum's beloved Auntie C, Cis Byrne, was like an aunt to him. And he loved all the Byrne nieces and nephews, many of whom are here with us today.
Over the years, Dad became involved in various aspects of Tuam life – he chaired the Tuam Chamber of Commerce for a spell in the 80s, was a keen participant in the Old Tuam Society, and above all, he relished his long-term role on the Tuam-Straubing Twinning Committee. He made many friends in Bavaria, and really loved his many visits there over the years.
Ennistymon family
However, for all that he became immersed in Tuam life, I don't think Dad would ever describe himself as a Galwayman – he was always from Clare. 
Dad would drive us down to visit Nana and Grandad in Ennistymon every few weeks, and Dervilla and I really loved our trips to Lahinch, and the Cliffs of Moher, and sometimes down to Ennis to visit Mena, her husband Sean and our cousins Tricia and Shane – (rest in peace, Shane, we miss you). 
The saddest Dad has ever been was undoubtedly when his beloved sister Mena died at the tragically young age of 39 – he was devastated. Recently, Tricia shared letters he wrote to Mena from Rome back in the 1960s – it was clear they shared a touching bond.  
Father and grandfather
In terms of family, Pat really loved being a grandfather – to be quite honest, I suspect he preferred it to being a father, most of the time!
He told his brother Tony that after his first grandchild, Etain, was born in 2013, he felt he was moving lighter through the streets, he was so happy.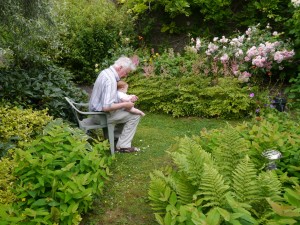 There was always such delight in his voice every time he spoke about Etain, so much pride in describing the beautiful, talented, intelligent person she is. 
And I will remember for the rest of my days the look of joy on his face when he met my son Sebastian for the first time. 
This was just weeks after getting the diagnosis of his illness in early 2021, and he held Sebastian with such tenderness that day, taking great comfort in seeing the next generation of O'Dwyer, even while knowing he would not get to see Sebastian grow up. But I'll always be so grateful that Seb and Dad had two years together.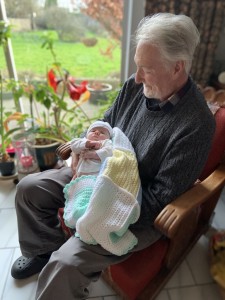 Garden theme
Pat always had newspaper ink on his fingers – from reading them as well as selling them – but I think he was happiest getting soil under his nails in the garden. 
During the Covid lockdown, he spent many long hours in his own garden, tending to the flower beds and pruning the bushes. 
He planted many of his favourite flowers, and the garden has never looked better than in the past few years, with colourful bursts of Tulips, Lupins, Foxgloves, Roses, Dahlias, Lillies, and so many plants I'll never remember the names of. He could name hundreds if not thousands of flowers on sight.
Actually, I like to think that his life was a bit like a great big garden that he gradually worked on, planting and replanting as the seasons and years wore on. 
Like a lovingly maintained garden, he kept blossoming and maturing in all sorts of ways, becoming wiser, more self-possessed, as he grew older.
And, like many gardens, he had some thorny, brambly corners that were hard to tame, as he'd occasionally acknowledge himself – but with time, tame them he did. 
He had a gardener's view of the world, seeing the long-term value in doing things, of having the patience to plant things today in order to see them blossom months and years from now.  
Final illness
That faith in the long-term was nowhere more in evidence than in his love for my mother.
That day in July 2020, their 50th wedding anniversary, was the perfect testament to their enduring relationship. 
He told me how incredibly fortunate he felt to have spent his life with her. He admired her intellect, her rationality, her pragmatism, her ability to put up with him at his most challenging and difficult, her ability to help him grow into the person he became. 
Little did he know that day that the greatest act of their love was yet to come. Six months later he began to feel unwell, and he entered the final chapter of his life.
Watching Riana care for Pat during his illness over the past few years was one of the most astonishingly beautiful expressions of pure love imaginable – it was an epic display of prolonged devotion, a testament to the lengths people will go to for the ones they love.
Dad was so, so grateful – his love for her grew and grew, even as his opportunity to express that love dwindled due to his illness.
Right at the very end, in the early hours of last Sunday morning, my mother was minding Dad, ensuring he was comfortable, and secure, and safe, and loved, as he passed from this world. It was the ending he truly wanted. 
I love you Dad. I feel so lucky to be your son.