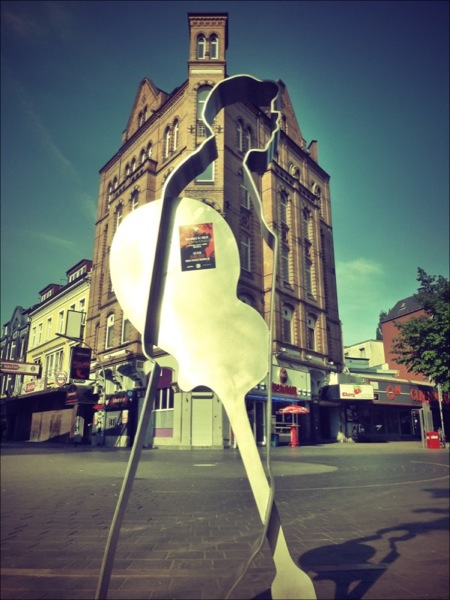 "They're just steel silhouettes, but instantly recognizable, an iconic lineup of four figures striking familiar poses with their instruments. Revelers passing through this busy intersection on Hamburg's so-called "Sinful Mile" gravitate toward them, posing for photographs alongside the Fab Four: John Lennon, Paul McCartney, George Harrison and a drummer that represents both Ringo Starr and original percussionist Pete Best.
"I was born in Liverpool, but I grew up in Hamburg," Lennon once said, referring to the more than 300 nights the Beatles spent playing in clubs along the notorious Reeperbahn red-light district of this north German port city in the early 1960s.
This year marks the 50th anniversary of their most famous residency, or series of gigs, at the legendary Star-Club, which means that even more Beatles fans are flocking to the area than usual. And Beatles-Platz, a circular plaza designed to resemble an old vinyl record, with the steel statues standing to one side, is where they congregate. I've been listening to the Beatles since I was a child, their songs part of the soundtrack to my life, and joining the pilgrims at Beatles-Platz, I feel almost as if I'm meeting my heroes.
But instead of the Fab Four, I find myself drawn to a fifth statue that stands a few yards away, walking toward the others, bass guitar slung low. No visitors are clamoring to have their pictures taken beside this figure, which represents Stuart Sutcliffe, the band's original bassist. Even here, attention eludes the lost Beatle. In case you haven't heard of — or have forgotten about — him, Sutcliffe gave up his role in the band in 1961 to study art and live with his fiancee, the photographer Astrid Kirchherr, one of a number of young Hamburg artists called the Exi's whom the band befriended.
I find the sight of his silhouette, standing on the fringes of the legendary lineup, oddly touching. It's a snapshot of a life that took a tangent and met with tragedy: Sutcliffe would never see his former bandmates change the face of popular music, as he died of a brain hemorrhage in April 1962, aged just 22.
Just days after his death, the Star-Club opened a few yards from Beatles-Platz, on the colorful, bustling street called Grosse Freiheit. The remaining Liverpool lads were on the opening bill, still coping with the shock of their friend's death. They played three long series of shows there throughout 1962, and those dates are now seen as the key turning point in the band's development…"
From my piece on the streets of St Pauli where The Beatles became the band that changed the face of popular music. Read the rest of this article at The Washington Post.